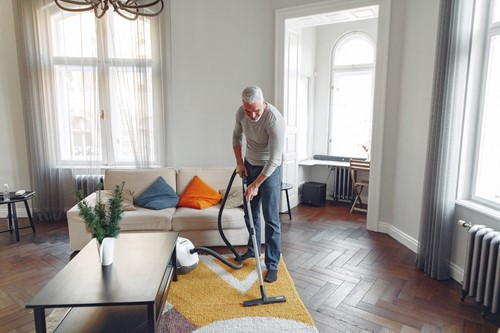 If your living room is a mess, you might feel overwhelmed at the prospect of "deep cleaning." The term might hold more weight than normal everyday cleaning, but it's not as difficult as it sounds. With the right tools and a plan, you can refresh your entire living room without calling in a professional.
Living Room Cleaning Tools
Here are some things you'll need to make your living room deep clean easier and more efficient:
Microfiber cloths

Glass cleaner

All-purpose cleaner

Long-handled duster

Vacuum

Broom or wet mop
3 Steps to a Living Room Deep Clean
Step 1: Organize and Declutter
Before you begin any real "cleaning" it's important to remove anything that doesn't belong. Living rooms are a common location for clutter to accumulate because of the high traffic and multi-purpose nature of the space. Identify what needs to be put away, thrown away or tidied up. For example, you might find used dishes and cups that can go right into the kitchen sink for washing. Gather articles from other rooms such as clothing items, personal entertainment and more into a designated basket or bin so you can put them away when you're done with the living room. Finally, take care of garbage or recycling you might have lying around. Tidy and straighten up things like seat cushions, throw pillows and decorative decor you want to keep in the living room.
Step 2: Dust, Disinfect & Polish
Get those microfiber cloths ready to clean every surface you can find. Dust is everywhere, so to avoid missing any spots, try working around the room clockwise. This will help you hit every nook and cranny with your dusting tools. Some commonly forgotten spots include tops of books on bookshelves, behind the television or entertainment center, window sills and shelves closest to the floor. Use the disinfectant cleaner on commonly shared items such as remote controls, electrical component buttons and light switches. Just a quick sweep with the disinfectant can help reduce spreading germs around the house. If you have any glass surfaces, use the glass cleaner to bring back their shine. This is also a great time to use special treatments like leather cleaners on furniture needing some extra attention.
Step 3: Finish With Floors
Whether you're sweeping, vacuuming or activating your helpful robot cleaner, floors should always be last on your list to clean. Anything you didn't capture with your dusters or cloths will eventually end up on the floor, so avoid making extra work for yourself by waiting until the very end to clean the floors. When vacuuming or sweeping, an excellent strategy is to begin in a corner opposite the entrance to the room. This way you will eventually work toward the exit and avoid retracing your steps. If you have hardwood or another hard floor surface, vacuum or sweep before using the mop.
While there are far more detailed steps you can take in a living room deep clean, this three-step strategy is an excellent place to begin. Use these tips and build upon them to find what works best for you in your home.